Gesellschaftsvertrag Ltd.
English Free Translation
LIMITED LIABILITY COMPANY
In Santiago, Chile, on _______, 200_, before me ___________________, Notary Public of the ____ Notary of this commune, domiciled at ______________, there appear Mr. ____________, domiciled at __________________, Santiago, for and on behalf, as evidence at the end, _________ [name of the majority partner]________, a corporation established and existence according to the laws of _________________, domiciled at __________, __________, _________, and for this purpose at [address], and Mr. _______________, domiciled at _______________, for and on behalf, as evidence at the end, of _________[name of the minority partner]________, a corporation established and existence according to the laws of _____________, , domiciled at __________________ _______________, and for this purpose at [address], whose evidence their identity with the aforementioned documents, all of legal age and state:
ONE: That they have agreed to constitute a limited liability company, to be governed by the following provisions:
FIRST - APPLICABLE PROVISIONS: The appearers organized a limited liability company, which will be governed by the present contract and, by the provisions of Law 3918 and its amendments, as well as by the pertinent provisions of the Civil Code and Commercial Code.
SECOND - NAME: The name of the company shall be ___________________________ Limitada.
THIRD - PURPOSE: _________________________________________________________
FOURTH - DOMICILE: The domicile of the company is the city of [name of city], notwithstanding that agencies, offices or branches may be opened in other parts of the country or abroad.
FIFTH - CAPITAL: The capital of the company shall be the equivalent in Chilean pesos to US$___________ that the partners contribute as follows: [majority partner], the equivalent in Chilean pesos to US$___________ that shall be paid within 3 years from this date, in the equivalent in Chilean pesos according to the rate of exchange published on the payment day, and that represents __________% of the rights in the company; and [minority partner], the equivalent in Chilean pesos to US$_______ that is hereby paid in cash in its equivalent in Chilean pesos according to the rate of exchange published on this date, and that represents _________% of the rights in the company.
SIXTH - LIABILITY OF THE PARTNERS: The personal liability of the partners is limited to the amount of their respective contributions.
SEVENTH - ADMINISTRATION: The use of the name of the company and the administration of the company shall be the responsibility of ____ [majority partner] ___, acting through a duly empowered representative. To make use of the company's name, the signature of the pertinent representative of the partner must be preceded by the name of the company. Acting as indicated, [majority partner] may proceed with the broadest powers in all acts or contracts related to the corporate business. Especially, and without this enunciation being restrictive the partner may: acquire, sell and barter in any manner all kind of chattels and real property, shares, bonds and rights; lease all kinds of chattels and real property; enter into contracts for current accounts of deposit or credit with commercial or state banks, or other public or private credit or development institutions, contract all kinds of loans or credit lines with such banks, entities or institutions, including the Central Bank of Chile; draw and overdraw on the current accounts of the company; draw, collect, revalidate, cancel, endorse and protest checks, withdraw check-books, request, approve or object balances of the banking accounts of the company; draw, accept, reaccept, endorse, discount, cancel, collect, extend and protest bills of exchange, promissory notes and other bank or trade documents; constitute, accept, postpone, divide and release mortgages; constitute any kind of pledges or other guarantees and give the corresponding releases; collect and receive whatever is owed to the company for any reason or title; waive actions and rights of any kind; give receipts, cancellations and releases; enter into all kinds of contracts, either of loan, deposit, insurance, bond, leasehold or transaction; constitute the company as joint debtor, or guarantor; fix domiciles; enter into management contracts of any kind; concur in public or private bids; request concessions; create other companies; represent the company with voice and vote in companies, associations or any other entities in which it may have an interest; modify their contracts, fix their form of administration, ask for advanced dissolution, request its liquidation, appoint liquidators, arbitrators at law, in equity or mixed; assign rights and credits and accept assignments; carry out all types of registrations in the Property Record Offices and empower other therefore; withdraw mail and telegraphs, including registered mail, postal money orders, or parcel-posts; open safety deposit boxes; deposit or withdraw values in custody; novate, reward, remit, make arrangements with creditors, make judicial or extrajudicial settlements; aval; execute all type of warrants operations; acquire, request, remit or transfer in any way commercial trademarks, patents and other privileges; clear goods from customs, endorse shipping documents and carry out all kinds of foreign trade or international operations of exchange; submit and sign import or export licenses, addenda, explanatory letters; sign affidavits and all kinds of documents that may be required by the Central Bank of Chile or other institutions; take out certificate of deposit or endorse policies of guarantee and request devolution of such documents; withdraw certificates of divisible values, request the amendment of the conditions under which a certain operation has been authorized and request authorization to operate under the system of deferred coverage; hire and dismiss company personnel, set up labour rulings, fix their conditions and remunerations; and in general execute all the acts and carry out all actions conductive to the adequate fulfillment of the matters entrusted to them. In the judicial order, [majority partner] shall have all the powers of article seven of the Civil Procedure Code and especially, those of the second paragraph which are here expressly considered as reproduced.
EIGHTH - POWERS OF ATTORNEY: [majority partner] shall...ignate the representatives mentioned in the prior clause by public deed or by private instrument before Notary granted abroad, in order to grant general or special powers of attorney. The attorney-in-fact appointed in the way indicated, may delegate his authority conferring special powers of attorney to third parties when he has been expressly authorized to do so.
NINTH - PROFITS AND LOSSES: The profits shall be shared and eventual losses shall be distributed in proportion to the capital contributions.
TENTH - BALANCE SHEETS: A balance sheet shall be prepared on December 31st, of each year.
ELEVENTH - DURATION: The duration of the company shall be unlimited.
TWELFTH - DISSOLUTION AND LIQUIDATION: The dissolution and liquidation of the company will be made by mutual agreement of the partners.
THIRTEENTH - DOMICILE OF CONTRACT: For all purposes of the present contract the parties fix their domicile in <?xml:namespace prefix = st1 ns = "urn:schemas-microsoft-com:office:smarttags" />Santiago and submit themselves to the courts of the city and county of Santiago.
FOURTEENTH - REGISTRATION: The bearer of a properly authorized contract of the present deed is empowered to request its registration and proceed with any other necessary steps.
FIFTEENTH
TWO: [majority partner] acting duly empowered according to articles 7 and 8 of the company charter __________[name of the company]_____________ hereby...ignates Mr. ____________________, Mr. _____________ and Mr. ___________ so that acting, any of them, joint or separately in the name of the company may represent it with the broadest powers, in the terms...cribed in the aforementioned articles.
The powers of attorney conferred to Mr. __________ to appear on behalf of [majority partner] are evidenced in _______ ______________
The powers of attorney conferred to Mr. _________________ to appear on behalf [minority partner] are evidenced in ________ ____________________ .
In verifying and previous reading, the appeared signed this public deed.
Das vollständige Dokument können Sie nach dem Kauf sehen, als Worddokument (.docx) speichern und bearbeiten.
zzgl. MwSt., garantiert keine Folgekosten,
zeitlich unbeschränkter Zugang
Weitere Informationen zur Mustervertragsdatenbank
Sie haben bereits einen Zugang? Melden Sie sich bitte hier an.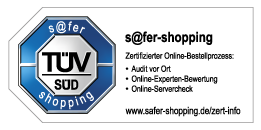 Kostenloses Hilfe-Forum: Unsere Anwälte beantworten gern Ihre Fragen zu "Gesellschaftsvertrag Ltd. " in unserem HilfeForum.
Sofort downloaden und anpassen: Alle Verträge können Sie gleich nach dem Kauf in den üblichen Programmen (z.B. Word) bearbeiten und anpassen.
Kompetente Beratung durch unsere Rechtsanwälte: Falls Sie das Dokument "Gesellschaftsvertrag Ltd. " oder einen anderen Vertrag bzw. Vorlage anwaltlich anpassen wollen stehen Ihnen unsere Rechtsanwälte gern zur Verfügung. Fragen Sie uns nach einem Kostenvoranschlag!